Cap Aureo
Grand Hotel Park Rovinj, Croatia
---
High-end modern cuisine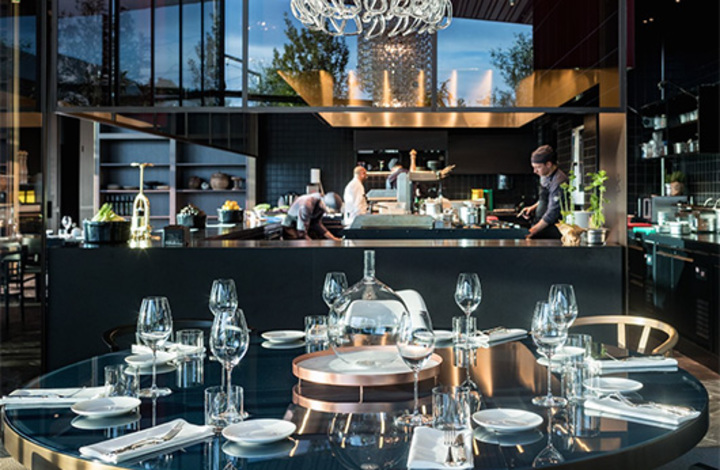 Background and brief
Cap Aureo is a fine dining restaurant, known for its culinary explorations. Being located on the Grand Hotel Park's 5th floor, this restaurant features a glass wall terrace overlooking the marina, Katarina Island and the old town of Rovinj. Cap Aureo brings a premium visual and olfactory experience inspired by the scents and tastes of the rich Mediterranean park.
Our Solution
Jeffrey Vella prepares at Cap Aureo a modern, progressive European cuisine that is almost radical in many elements when it comes to taste extraction techniques. It is especially interesting that Vella's menu at Cap Aureo is based mostly on vegetables whose flavours and textures are dramatically superior to any other place in surroundings. Here you will be able to try, for example, cauliflower simmered with fresh goat's cheese and caramelised with yeast and early harvest truffles or whole beetroots salted, simmered, shaved and scented while the iced dessert pop pairs with a cocktail poured tableside—like carrot cake condensed in a glass.
These are foods that are equally hedonistic and intellectual and that connects Croatia to the world's leading gastronomic places. The menu features 20-odd stories, with a notebook where you can write down your impressions of the restaurant's ambiance, food, and wine and where some of the other guests' impressions can be read as well.
Along with the open kitchen and chef's table experience, where dishes are prepared right in front of you, Cap Aureo's wine list has been carefully created to include a number of Croatian and international wines that will complete your gourmet experience.
Services Provided
Culinary Directions
Culinary Training
Project Completion Date
Project Team
Related Press