At Cuculić's Place
Rijeka, Croatia
---
Red Dot Awarded Exhibition Design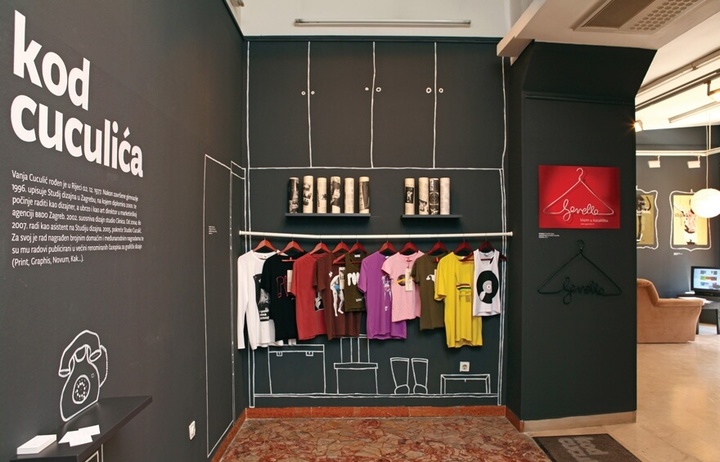 Background and brief
The exhibition of one of the best Croatian graphic designer Vanja Cuculić took place at the Museum of Modern and Contemporary Art in Rijeka in 2010.
Our Solution
The exhibition symbolically named "Kod Cuculića" (At Cuculić's Place) was conceived as a rendition of the designer's apartment. His works have been integrated into the setting, designed as distinct rooms of the stylized apartment to approach designer's habitat to the audience and to emphasize the ubiquity of design in everyday life.
Apart from the exhibition set-up, the advertisement poster and exhibition catalogue were also designed. The main motif is the designer's profile made of illustrations of half-opened drawers. Both the advertisements and the catalogue feature profiles made from illustrations, which symbolize the designer's field of work; posters, wine labels, books, identities and tourist destinations.
Services Provided
Environmental Graphics
Exhibition Catalogue
Exhibition Design
Exhibition Poster
Project Completion Date
Project Team
Marko Šesnić, Goran Turković, Stefano Katunar
Awards
Red Dot - Best of the Best Award, 2010
Judgement Day Award, 2010
Exhibitions
Croatian Design Exhibition 0910, 2010
Zgraf 11, 2012
The 23rd Biennial of Industrial Design, 2012