Bocca Buona Zürich
Radisson Zürich Airport, Switzerland
---
Authentic Italian story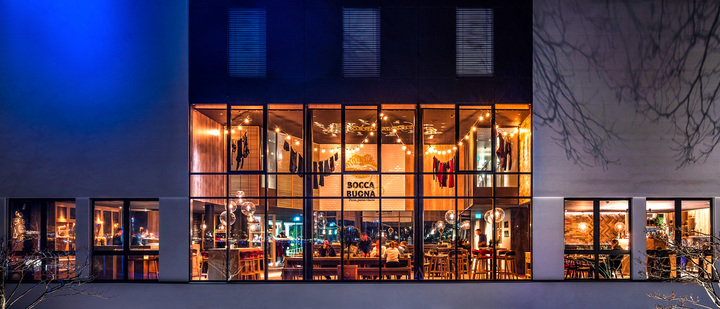 Background and brief
Bocca Buona is a true Italian experience that
reflects rich Italian culture and tradition. Typical Italian elements and ambience are reinterpreted in a modern way and take customers on a memorable journey to Italy, creating an authentic and exciting Italian story.
Our Solution
Bocca Buona provides a community feel, the concept of Italian family and friends gathered around a large communal table, centrally placed, that brings a warm, crowdy and noisy ambience of the Italian street and a lively bustle into the restaurant.
The Italian culture of food is the main attraction of the restaurant. The platforms are a Show kitchen and a Show bar, on opposite sides of the restaurant, where the distance between service and person being served is removed. The customers can enjoy views of theatrical preparation of simple delicious food and typical Italian drinks and even participate in the show while preparing their own pizza.
The fusion of different styles and elements evokes rich Italian cultural history and design periods, contrasting materials, textures and colours in a contemporary and stylish manner.
Photo credit: Park Inn by Radisson Zurich Airport
Services Provided
Brand Values
Environmental Graphics
Furniture Design
Implementation
Lighting Design
Styling Directions
Project Completion Date
Project Team
Nataša Ivanišević, Sandra Barcons Planella, Jordi Parcet Comas
Related Press
Awards
Nomination for the German Design Awards 2020