Emilia Restaurants
Concept design, Middle East
---
Italian food & lifestyle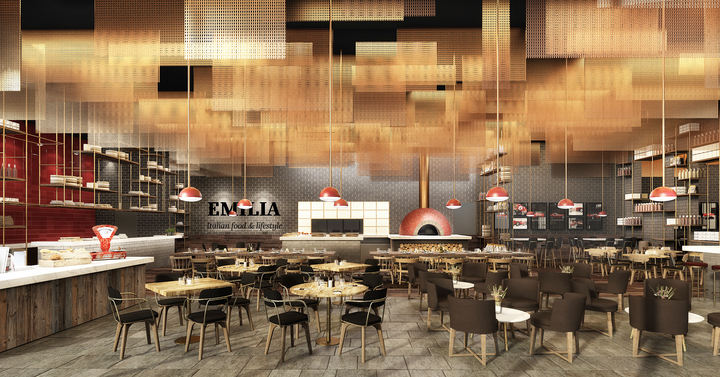 Background and brief
Emilia Romagna. Home to Pavarotti, Enzo Ferrari, Ferruccio Lamborghini and Ducati brothers. The land of Parmigiano Reggiano,
balsamico, prosciutto, fresh pasta and gigantic Bolognese sauce; definitely the gastronomical capital of Italy. A story filled with passion. If Emilia was a color, was definitely Ferrari red. As it reflects the energy and the dynamism of the land and its people. There are so many reasons to love Emilia, you may never want to leave.
Our Solution
Emilia is a lab more than a restaurant, a space where we produce fresh pasta and pizza, so people can just come in, get it cooked and dressed right in front of them, eat it in our cosy space or go home with it. We want to be known for doing simple things well and doing them properly. Only authentic ingredients and original recipes, straight from the pan to the plate. No masking, nothing that shouldn't be there. Just the real thing, like if you were in Italy.
Services Provided
Brand Values
Conceptual Brief
Furniture Design
Lighting Design
Research & Insight
Styling
Tableware Directions
Project Completion Date
Project Team
Nataša Ivanišević, Sandra Barcons Planella, Jordi Parcet Comas