Turkish Table
Kutina, Croatia
---
The educational forest trail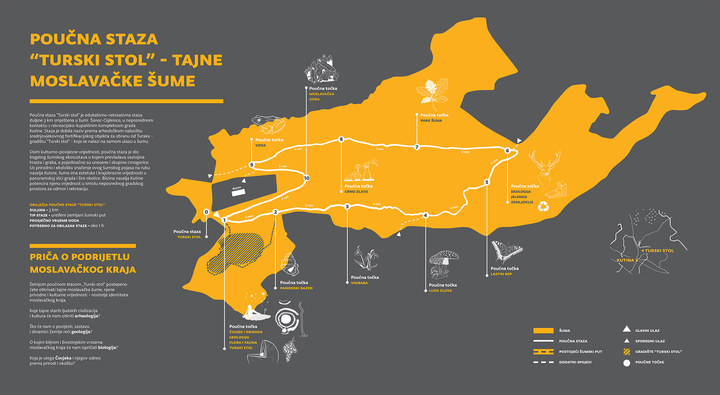 Background and brief
The educational trail "Turkish table" is an educational - recreational trail 3 km long, located in the forest Šanac-Ciglenica, in direct contact with the recreational and bathing complex of the city of Kutina. The trail is named after the archaeological site of a medieval fortification for defense against the Turks - the site of the "Turkish table" - which is located at the entrance to the forest.
Our Solution
The project of educational trail in the forests of Kutina aims to encourage the use and further emphasize the recreational, tourist and health benefits of forests by making them more accessible to local population.
Dozen of info panels across 3km long educational forest trail will bring interesting facts about the forest life and its surroundings with the writings and design specially adapted to younger age.
The idea of moving along the educational trail is the gradual discovery of the "secrets" of the Moslavina forest, and the theme of passing through time is reflected in the design of park equipment (entrance portals, info panels, signposts, benches, tables).
Services Provided
Artworks
Environmental Graphics
Visual Identity
Way-finding & Signage
Project Completion Date
Project Team
Nataša Ivanišević, Marko Šesnić, Goran Turković, Iva Sindik, Ines Mravunac, Nataša Mravunac, Inja Kavuric Kireta, Krunoslav Šmit
Related Press