Lobby Radisson Zürich
Radisson Zürich Airport, Switzerland
---
Swiss minimalism with a pinch of colours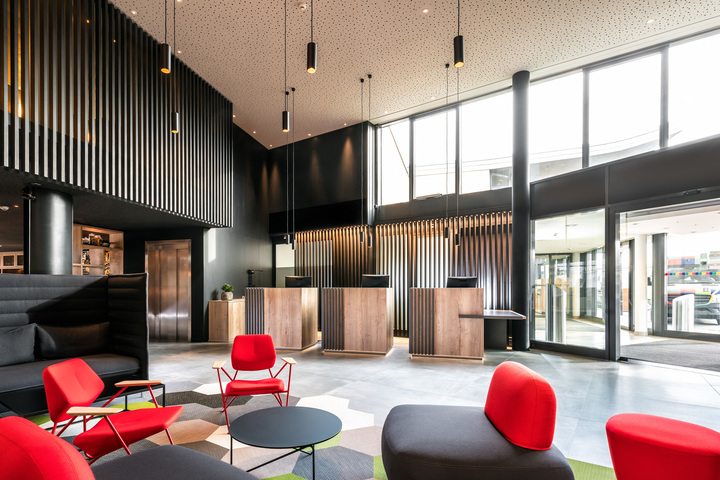 Background and brief
Redesign of the hotel lobby aimed to create a place for social connections, functional yet elegant and memorable live-inn room that makes guests feel like at home.
Our Solution
The central social space provides a cosy ambience with comfortable armchairs, high back sofas and coffee tables, fully equipped for a creative co-working and conversations. It delivers a consistent guests' experience and a truly great first impression that invite guests to linger and interact with others.
Lobby walls and the first floor windows are integrated by the use of same system of timber panels and slats, transforming the upper floor to a graphic play of vertical partitions that permit the views at the same time. Dark grey colour of timber wall finishes and grey cement tiles correspond to Swiss minimalistic architecture and design, carefully contrasted with colourfull furniture and custom-made wall graphics.
Photo credit: Park Inn by Radisson Zurich Airport
Services Provided
Artworks
Environmental Graphics
Furniture Design
Implementation
Lighting Design
Styling
Project Completion Date
Project Team
Nataša Ivanišević, Sandra Barcons Planella, Jordi Parcet Comas
Related Press